by Jerome Spencer
"The night before, I'd opened an empty dumpster and a tiny rat was at the bottom, jumping up and down, trapped.
So I tipped the dumpster and let him go.
Which, for whatever reason, hurt.
Like hurt bad."
The energy, pace and stream-of-consciousness writing in The Garbage Times/White Ibis pulls the reader along almost unconsciously. You'll find yourself digging in, hanging on to every frenetic word and turn of phrase, laughing out loud and flipping through page after page frantically and genially until – Oh shit. This is really sad.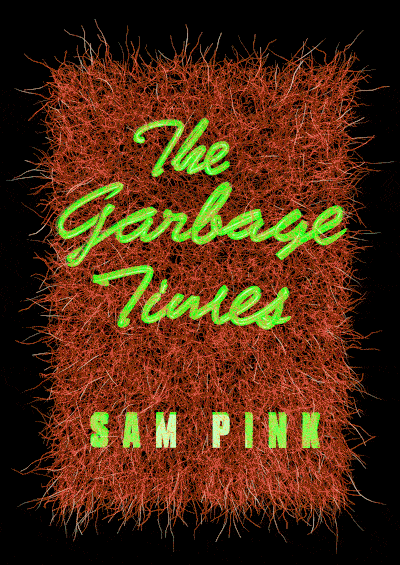 Two (sort-of) interlocking novellas, The Garbage Times/White Ibis follows it's narrator from the desolate, frozen streets of Chicago to the swamps of the theme park state without ever losing the author's dry-wit and distinctive observations. While it goes from damp bar basements, shit-clogged toilets and sharing joints with homeless guys to family parties at the country club, evening bike rides and partying with Girl Scouts, Sam Pink never loses his fruitless perspective on all that is beautiful yet inevitably doomed within both worlds. And, yeah, that sounds fucked up; but is it?
No other writer captures the complexity of human emotion and the rollercoaster that is inner-monologue – particularly while simply observing the most mundane human interaction – like Pink. Often, while reading this book, I didn't realize my heart had been shattered because I was distracted by my own laughter. Pink's simple observations become metaphors or, perhaps, the basis for a new philosophy altogether. Whether it's pessimism or deranged optimism, Pink always manages to sneak the wrong one (?) into every situation, prompting the reader to question everything. Or perhaps just accept things they way they are. The Garbage Times/White Ibis is almost insidious in its power, reminding us to seize and appreciate the beauty around us while it's there because it's only temporary. And it all falls apart in the end. Maybe.
It would be a disservice to Sam Pink's impressive catalogue to say The Garbage Times/White Ibis is his best work, but, if you've never read his work before, it would be a great place to start.